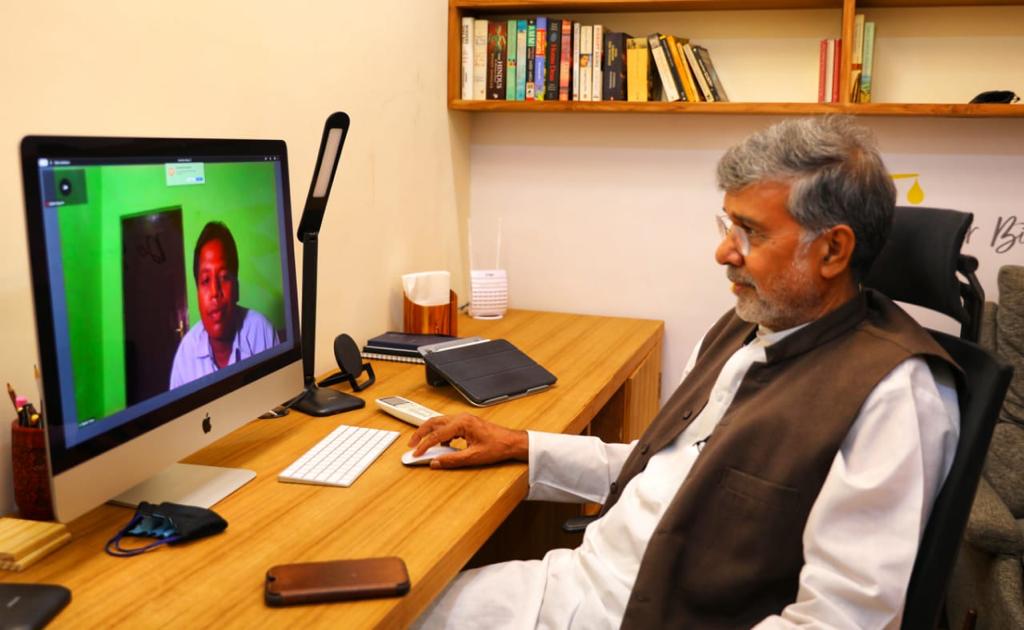 Former child laborer Neeraj Murmu of Duliakaram Bal Mitra Village in Giridih district of Jharkhand has been honored with the prestigious Diana Award for Britain. 21-year-old tribal youth Neeraj Murmu has been given this honor for the elimination of child labor and educating 200 children from weaker sections of the society along with the community.
Bal Mitra Gram i.e. BMG is run by the Kailash Satyarthi Children's Foundation (KSCF).
Nobel Peace Prize winner Mr. Kailash Satyarthi and the organization he founded have an important role in Neeraj's personality development and social change. Bal Mitra Gram is an innovative and grassroots initiative of Shri Kailash Satyarthi to create a happy and friendly world for children. Such villages are being built in the country and the world. The children here are gaining national and international fame due to their passion and achievement of social change.
With the cooperation and inspiration of BMG, asbestos is freed from child labor from the mine and enters Neeraj School. Then, realizing the importance of education, he resolves to make children like himself free from child labor and educate them. Neeraj takes the resolution but many obstacles come in his way. Neeraj had to make a lot of effort to convince the parents of the child laborers to explain the importance of education and send their children to school. For this, he organized rallies and campaigns several times in his village. Eventually, Neeraj's efforts started paying off and his ideas got the support of the people. It is a result of Neeraj's will that the enrollment rate of children, especially girls, in government schools has increased considerably. Neeraj says – "This is just the beginning." They have many more villages like Duliyakaram BMG."
Bal Mitra Gram means villages whose children are free from child labor and go to school. There should be a selected Bal Panchayat and which is in sync with the Gram Panchayat. Along with quality education to children, qualities of leadership ability are also developed in them. Children of the village, with the help of the panchayats, help the child solve the problems of the village and contribute to its development. Many children here have been honored nationally and internationally due to their passion for social change and achievement. While many former child laborers have been Ashoka fellows on the one hand, on the other hand, the International Children's Peace Prize has also been awarded as the Nobel Prize for Children. Lalita Duharia of Dera BMG of Viratnagar Tehsil, Rajasthan is an Ashoka Fellow as well as a member of the current jury of the World Children's Peace Prize in Sweden. At the same time, Omprakash Gujar, resident of Jaipur, Rajasthan, has been awarded the International Children's Peace Prize. Last year, the Bill and Milinda Gates Foundation honored two people from India with their prestigious Changemaker Award. One was Prime Minister Narendra Modi, and the other was Payal Jangid representing Rajasthan's Hinsala BMG. The Diana Award which was received this year by Neeraj Murmoo, last year Jamadar BMG's Champa in Giridih district of Jharkhand has received this award for social change. There is a long list of children of Satyarthi movement who won such awards.
In order to ensure that no child is left behind by getting education, Neeraj initiated the establishment of a school at the local level in 2018 with the support of KSCF. Here started teaching and writing to children who cannot get quality education due to lack of teachers. The children who got education from Neeraj have now become aware and they too are child labor from their village, they are involved in change work like getting children enrolled in schools while eliminating social evils like child marriage. Neeraj has also freed 20 child laborers from asbestos mines. Neeraj is currently distributing his father's hand in farming and farming while completing his graduation. The Diana Award certificate has lauded Neeraj's leadership ability towards social change and referred to him as a "changemaker".
Mr. Kailash Satyarthi has proved through his four decades of struggles and the results that the poor and marginalized children of the child labor can change their lives if they get equal opportunities for education, but others like themselves Can also bring changes in the lives of children. Neeraj is one such example. He not only changed his life, but also changed the entire village by motivating himself and his child laborers for education. Former child laborers who have been educated by his efforts are now making more people aware against education and child labor. In this way, Neeraj has prepared the next generation of the Satyarthi movement. And this next generation will create its next generation. This cycle will continue till the child labor is over. Forty years ago, Mr. Satyarthi started this series alone. Today it has spread all over the world in the form of a movement. Thousands of "Neeraj" are engaged in change around the world under the inspiration of Shri Kailash Satyarthi.